Book Talk: Brother Lawrence's "Practice of the Presence"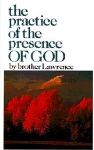 I got my first job in second grade. Every night, around six, I "clocked in" at the sink. I learned early how to get burnt Shake-n-Bake off Pyrex and what "dish-pan hands" meant in real life.
My career skills followed me to college, where I worked long, hard, sweaty hours at Duke's Grill as a "professional" dishwasher. As far as jobs go, the only perk was the solitude. No one in his/her right mind wants to stand in the steam of hot water, handling mounds of other people's table scraps. I escaped by daydreaming about what I would do with my paycheck.
I guess that is why I have always been fascinated with Brother Lawrence and his timeless book, "The Practice of the Presence of God" (Whitaker House).
A "lay brother" among monks in the 1600s, Brother Lawrence went to serve in a monastery at the age of 55. Among his menial tasks were cooking and cleaning up for the order. Unlike me, while his hands did common work, he discovered his life's passion:  the discipline of constant prayer and praise. He considered it his honor and his duty.
Then when he began his business [in the kitchen] he said to God …'O my God, since Thou art with me and I must now, in obedience to Thy commands, apply my mind to these outward things, I beseech Thee to grant me the grace to continue in Thy presence; and … receive all my works, and possess all my affections.
A far cry from payday dreams.
My copy of "The Practice" is dog-eared, stained and coverless. I have read and re-read it for 25 years. It's comprised of passages concerning Brother Lawrence and his unique pursuit:  to be in constant communion with God, no matter what the setting – as well as descriptions about his humble life. The book contains both his writings and writings by others who knew of him.
You must listen to me carefully:  Besides the Bible, I have read only a few books that have left me deeply changed. This is one of them. If you apply even one iota of Brother Lawrence's prayer process, you will become different. Perhaps best of all, there are no teaching DVDs, workbooks or ginsu knives needed to emulate his beautiful journey. A simple sponge and last night's dishes will do just fine.

© 2005 CCM Magazine.  All rights reserved.  Used with permission.  Click here to subscribe.