Book Talk: Creating the Perfect Reading Environment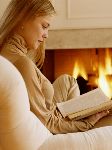 I have come to the conclusion that I am filet mignon to most biting insects. I cannot step out the door in warm weather without being assaulted by everything from large black flies to the ever-elusive "no-see-ums." It's the reason I hole up in my house starting in June.
Normally, I sit outside and read every morning to the backdrop of my favorite (and some not so favorite) sounds like the birds, the wind in the leaves and the muffled bass thump of a passing Cadillac. Somehow all these sounds together seem to cancel each other out and create the perfect environment for concentrating. But come that first mosquito assault, I'm in the living room, missing the interplay of sub-woofer and blue jay.
The search for creating the perfect indoor aural backdrop always leads me back to the same old, time-honed method:  my CD collection. Don't misunderstand, I don't put on Bebel Gilberto, Tony Bennett or even Rita Springer. All of that distracts me. It has words, and by chosen profession, I am obligated to listen. But rather, I listen to anything that doesn't remind me of my "work" life. Some of my favorites are ambient, like a double CD I bought last year called "Windham Hill Chill." It is perfect, non-distracting, great reading music.
I asked a few friends what they listen to when reading. Shaun Groves said this:
"...If it's music, it's classical. I use the classical to romantic period discs the most. I love Mozart, Bach, Schumann, Vivaldi, etc. It's music too complex for my brain to analyze while reading, so it gives up and lets the music easily become furniture, background. It's very soothing for me, no guitars, nothing like what I write, and it takes me to another time. Plus, it makes me feel smart and distinguished and, I think, helps me sound out those big words."
And Janna Long of Avalon had this to say:
"Reading? With my infant daughter, I've had hardly time to do anything. The only books I get to read have titles like "The Animals at the Zoo." But when I am able to find the time, I listen to classical music – anything in that category."
If you need a push indoors for a decadent afternoon of reading, let me entice you with a few more titles you might enjoy: "Aria 2" (Windham Hill), "Mozart for Relaxation" (Various Artists: Windham Hill) and my longtime favorite, "Surf and Spray" (New World Music).

© 2005 CCM Magazine.  All rights reserved.  Used with permission.  Click here to subscribe.