Chris Well's "Evelyn" More Than a Crime Story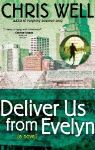 Artist:  Chris Well
Title:  "Deliver Us From Evelyn"
Publisher:  Harvest House Publishers
If "Deliver Us From Evelyn" were a movie, its TV Guide blurb might read:  "After heartless media mogul Evelyn Blake's husband disappears, a young police detective determines to unravel the mystery." And while that is the essence of this novel, the description hardly does it justice. "Evelyn" is more than just another crime story. Yes, it's about a missing Warren Blake. Yes, it's about a police investigation. Yes, Evelyn Blake is ruthless ala the character Miranda Priestly from "The Devil Wears Prada." But it's also about redemption, searching for meaning in life ... and comics.
Detective Charlie Pasch returns from Chris Well's first novel "Forgiving Solomon Long" as the central viewpoint character, but his is hardly the only perspective. From the anonymous blogger spilling Blake Media secrets, to the con-man determined to pull off another elaborate heist, "Deliver Us From Evelyn" jumps all over Kansas City.
But it's the bad guys who steal the show. Especially the con-man who's posing as a minister. This guy has attitude, and it makes for some interesting exchanges, because Chris Well has a way of making even the hardest criminal likable. You might even have to squelch a chuckle in a few scenes. (After all, cough cough, this is a crime novel.) Not so likable is freezer-cold Evelyn Blake, who deserves her employees' agnomens of "Queen Evel" and "Cruella D'Evelyn". And we've got a few mob henchmen as well, who are perfectly happy bumping people off.
Perhaps the most intriguing character is the anonymous blogger. The conversational blog entries are peppered throughout the story and make for a nice change of pace amidst the police investigation and con games. An insider at Blake Media, there's no corking this person's opinions, and suspicions, of Evelyn. Only when Blogger and Detective Pasch join forces does the truth about Warren Blake's whereabouts finally surfaces.
Occasionally the ensemble cast made it challenging to know exactly who to root for, and I would've liked to have seen a little more description of what exactly Evelyn Blake looks like, but most readers probably won't even notice this amidst the zipping plot. Loaded with pop culture references, including mentions of Switchfoot and The Wizard of Oz, perhaps most central to the plot of "Deliver Us From Evelyn" are comic books. It's no secret Charlie Pasch can talk for hours on the subject, and comics ultimately play a part in piecing together the puzzle. But if you're not a comic fan, don't worry. The comic references don't overload the novel. They simply embellish it. I came away from the story with a new appreciation of their value.
Compelling, quirky, and engaging, "Deliver Us From Evelyn" will be a welcome addition to your bookshelf.




 © 2006 Infuze Magazine.  All rights reserved.  Used with permission.