Christian History Series Releases Two More Books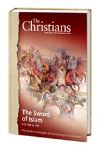 Two new volumes from the Christian History Project (CHP) are available in this fine series of books that aims to reconnect Christians to the history of their faith.

Often spellbinding in its prose and filled with powerful artwork and photos, this series has already garnered impressive endorsements from a variety of Christian sources, such as American Family Association chairman Don Wildmon; Chuck Colson, founder of Prison Fellowship; Dr. James I. Packer, author and professor of theology at Regent College; Fr. Alphonse de Valk, editor of Catholic Insight; and George Barna, directing leader of the Barna Research Group.

"Darkness Descends: AD 350 to 565, The Fall of the Western Roman Empire," and "The Sword of Islam: AD 565 to 740, The Muslim Onslaught all but Destroys Christendom," are the fourth and fifth in a planned set of twelve volumes.

The opening chapter of "Darkness Descends" confronts the reader with early struggles of the church against heresies – a battle that should sound strangely familiar to those believers who are currently fighting to save their own denominations.

The focus then shifts to chapters covering, among other things, the barbarian invasions, the fall of Rome and collapse of the West, the birth of the medieval world and the foundation of the Byzantine empire.

"The Sword of Islam" covers the rise of Islam and the early Middle Ages, and spans the years 565 to 740. While covering events in the Christian world as well, this volume will help Christians understand the foundations and development of Islam, especially at a time in history when the world's two largest faiths are often at odds.


© 2004 AgapePress.  All rights reserved.  Used with permission.