"Custody of the State" - Book Review
Whitney Hopler

Crosswalk.com Contributing Writer

2003

26 Mar

COMMENTS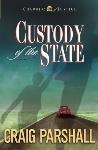 Author:      Craig Parshall
Publisher:  Harvest House Publishers
Attorney Craig Parshall, husband of Christian talk show host Janet Parshall, has applied his legal expertise masterfully to fiction writing in his new novel, "Custody of the State." The second book in a series titled "Chambers of Justice", "Custody of the State" tells the story of a young Georgia family torn apart by allegations of child abuse.  Joe and Mary Sue Fellows worry about their four-year-old son Joshua, who suffers from developmental delays, nausea, loss of appetite, and other troubling symptoms.  People in the social service and legal system are convinced that Mary Sue has been poisoning Joshua with brake fluid -- and circumstances overwhelmingly point in that direction.  But Mary Sue is convinced that a disease is behind Joshua's health problems.  Her attorney, Will Chambers (the hero of Parshall's first novel in the series, "The Resurrection File") must choose to trust God more than ever before as he struggles to unravel the truth.
Parshall keeps readers flipping the pages to discover more about how things will turn out, never giving too much away too soon.  And his characters are quite believable, as well.  Readers may find themselves wanting to read more about young Joshua, however.  Oddly, while all the other characters are maneuvering around him, Joshua himself makes very few appearances in the text.  It would have been good for Parshall to show more of Joshua, to build the connection and compassion readers should have for him.
It's no mistake that Joshua's parents are named Joe and Mary Sue.  As Will Chambers discovers, they have a lot to teach him about Jesus' parents, Joseph and Mary, and their escape from Egypt.  Those parallels will likely motivate readers to ask themselves whether they're willing to trust God to protect them from evil -- even if He does so in ways they wouldn't have chosen themselves.

Get 1 Christian Bestseller for FREE, plus FREE shipping.  Click here for details.