Dad's Everything Book for Daughters - Book Review
Whitney Hopler

Live It Editor

2003

12 Mar

COMMENTS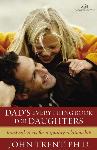 Author:    John Trent
Publisher: Zondervan
A father has more influence in his daughter's life than any other man will ever have.  Yet, tragically, many men fail to connect with their daughters.  Sometimes they're distracted by life's demands; sometimes they feel that they don't understand the opposite sex very well.  But the book Dad's Everything Book for Daughters aims to help men make those vital connections with their daughters--the connections that will help girls and women feel secure and confident, and come to understand the fatherly love that God has for them.
Author John Trent, president of StrongFamilies.com, has done a good job of creating a book that's readable and practical enough for even the busiest dad to digest and apply.  It begins with a compelling introduction, then continues with a discussion of 72 different ways fathers can build close relationships with their daughters.  The last one of those ideas--daily prayer for daughters--gets its own chapter, in which Trent writes 21 suggested prayers men can use to start the habit of praying daily for their daughters (research indicates that it generally takes 21 days to form a new habit).  Trent tells how he has personally applied his ideas in his relationships with his two daughters, and he does so honestly, sharing both his successes and his struggles.
Fathers may choose to simply incorporate Trent's ideas into their own lives, or let Trent's ideas spark some ideas of their own.  But however they go about it, all that's ultimately important is that they make an effort to connect with their daughters somehow.  And, overall, the book does a good job of motivating dads to try.

Get 1 Christian Bestseller for FREE, plus FREE shipping.  Click here for details.