Dating, Drug Abuse Addressed in Suspenseful "Bad Connection"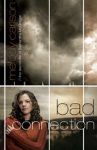 Author:  Melody Carlson
Title:  "Bad Connection"
Publisher:  Multnomah
Sixteen year old Samantha McGregor's life has taken a drastic turn since her father's death several years ago.
Her mother works full-time, but struggles to make ends meet. Her older brother, Zach, has gone through rehab for both alcohol and drug addition, but Sam suspects he's fallen back into his old habits. As if that wasn't enough, the visions have returned. The dreams started when she was eleven. Her father became her biggest supporter and believed her visions were a gift. But he's gone now, and her mother doesn't buy into "this is a gift from God" line. So when the visions return after a year, Sammy doesn't know where to turn.
They center around Kayla, Sammy's missing classmate. As her visions become more detailed and frightening, she takes a risk. She brings into her confidence her deceased father's partner, Ebony Hamilton, now a detective. Ebony is familiar with Sammy's gift; her father had confided to her before his death. But will the authorities be able to decipher the visions in time to save Kayla?
"Bad Connection" is a suspense story with the main focus on a character with a controversial gift – that of visions. Written primarily for teenage girls, the book touches on a few subjects teens must wrestle with in this culture-dating, premarital sex, drug and alcohol abuse, wounded families.
But Sammy doesn't really and truly wrestle with these problems. She doesn't have to. The answers she needs appear when she needs them – a Bible that always open to the verse she needs to read to solve her particular problem at the moment, adults key to the case that hold the same beliefs she does and so on. Unfortunately, life doesn't work that way. But this is fiction and the author is free to create the world her characters inhabit.
All in all, "Bad Connection" is a suspense story – will Samantha's visions be deciphered in time to save Kayla. The characters will hold their strongest appeal for teen girls, the main audience for the book. The strong Christian message will appeal to some readers and annoy others. But the real drawback isn't the Christianity that is present throughout the book. It's the "in the nick of time answers" that really distract from the book and work in Samantha's favor that keep the plot on a bit of a predictable line. A good suspense story that is sometimes lost in the message.

 © 2006 Infuze Magazine.  All rights reserved.  Used with permission.