"Divine Nobodies" Details Author's Spiritual Journey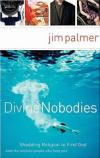 Author: Jim Palmer
Title: "Divine Nobodies"
Label: W Publishing Group
In the world of Christianity, Jim Palmer had it all – pastor of his own church, high profile, big title – until circumstances caused it to all slip through his hands sand. Loss of position, divorce, and outright depression caused him to reconsider all that he had done and said, to see God in a new light. And through a process of pain, loss, and revelation, a book called "Divine Nobodies" was born.
In a style that is Don Miller meets Ann Lamott, "Divine Nobodies" is the story of a spiritual journey. Palmer shows how God used a Hip-Hop artist, a Waffle House waitress, a tire salesman, a disabled girl, and a gay friend to show him Truth, as opposed to mega-churches, conferences, or revivals. "God sent a variety pack of characters to awaken me," says Palmer.
Powerful, comical, and even painful in its honesty, the book is a story of finding God outside the lines and discovering that God truly wants to find you. "Perhaps God's reason for wanting me is much better than my reason for wanting him," writes Palmer. "Maybe God's idea of my salvation trumps the version I am too willing to settle for."
Similar to Miller's "Blue Like Jazz" in style, Palmer has a more humble approach to his opinions, earnest yet lacking the sarcasm prevalent in much of Miller's work. For those hoping there's more to God than what the church has given them, this book is more than a breath of fresh air: it's a call to finding the simple beauty of God in the divine nobodies that surround us all in our everyday lives.


© 2007 Infuze Magazine. All rights reserved. Used with permission.