"Divorce-Proof Your Marriage" - Book Review
Whitney Hopler

Crosswalk.com Contributing Writer

2003

11 Jul

COMMENTS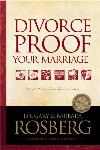 Authors:    Dr. Gary and Barbara Rosberg
Publisher: Tyndale House Publishers, Inc.

Sobering statistics show that divorce is all too common – even among Christians.  So spouses Gary and Barbara Rosberg, who host a nationally syndicated, live call-in radio program called "America's Family Coaches … LIVE!," have written "Divorce-Proof Your Marriage" to try to help couples prevent divorce.

The Rosbergs' passion for their topic comes through loud and clear.  They write with unflinching candor about their own marriage, and offer compelling points to readers who they hope to motivate to work on their own marriages before it's too late.
 
The Rosbergs outline a "marriage map" so readers can determine where they are on the progression from a thriving marriage to one in serious danger: dream, disappointment, discouragement, distance, disconnect, discord, and emotional divorce.  They include some helpful quizzes in this section that help readers personalize the material.  It's a shame that they didn't continue the quizzes throughout the book.  Including more quizzes would have been especially useful to readers as they progress through the various stages of building protective walls around their marriages: forgiving love, serving love, persevering love, guarding love, and renewing love.

However, the Rosbergs have included a wealth of examples throughout the text to illustrate how real married couples have handled all the issues they discuss.  Since there's nothing like real-life stories to shed light on a book's principles, these examples go a long way toward helping readers absorb "Divorce-Proof Your Marriage"'s message.

This book is meant to launch a campaign to help prevent divorce, and as such, it's the first of many upcoming products planned by Rosbergs and their publisher, Tyndale House. Some of those products are advertised in one of the book's appendices.  But in this book alone, there are plenty of thought-provoking, practical ideas to help spouses inject their marriages with a good dose of preventative medicine.


Get 1 Christian Bestseller for FREE, plus FREE shipping.  Click  here for details.