Don't Take Any Wooden Nickels - Book Review
Whitney Hopler

Crosswalk.com Contributing Writer

2003

3 Feb

COMMENTS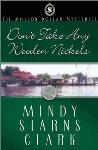 Author:     Mindy Starns Clark
Publisher: Harvest House Publishers
Readers looking for fast-paced intrigue will likely enjoy the new novel Don't Take Any Wooden Nickels.  The book's 335 pages whiz by because they're packed with action.  Heroine Callie Webber is reminiscent of one of the "angels" from the popular 1970s television show Charlie's Angels.  For two years, she has worked for Tom, a rich philanthropist who she talks to frequently by phone, but has never yet met in person (just like the mysterious Charlie from the TV show).  Callie, a private investigator like the angels, researches nonprofit organizations that have requested money from Tom, then dispenses checks to those deemed worthy of his cash.  While between assignments, however, Callie gets caught up in a murder investigation on Maryland's Eastern Shore.
Author Mindy Starns Clark masterfully weaves the threads of mystery and suspense throughout the plot, giving readers a burning desire to keep reading to discover what will happen next.  She also weaves threads of faith into the story in just the right places, without ever forcing it.  So readers should successfully get the book's moral message--that they shouldn't pursue something just because it looks valuable, since, after more careful scrutiny, it may not turn out to be worthwhile.
The book is also full of detailed descriptions that draw the reader into the story.  Although Clark doesn't write with lyrical imagery (the way some writers achieve good descriptions in their text), she does have a knack for details.  And since she's made the heroine (and narrator) a private investigator, detailed descriptions become all the more important.  Readers should have lots of fun going through this book.