Everyday Apocalypse - Book Review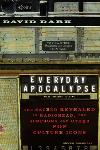 Author:      David Dark
Publisher:  Baker Books/Revell
Is there more to Radiohead than the unconventional Brit-rock anthems it creates?  Does Bart Simpson's life have a deeper meaning that you've never considered?  You just may find out the answers if you pick up Everyday Apocalypse.
Like his wife's artistic and unique approach to music, Sarah Masen's husband, David Dark, also leads Christians on an unexpected but thought-provoking journey.  In his new book, Dark tackles the arduous task of presenting what believers can learn about life and faith through the lens of pop culture icons like Radiohead, Beck, The Coen Brothers and—doh!—even Homer Simpson.
Rather than defining an apocalypse as a global breakdown that signals the end of earthly existence, Dark presents a challenge to readers to examine the word's root, which means "revelation."
Similar to a college-level philosophy class, many of the author's declarations require more than just surface-level thinking for clear understanding.  But with an intriguing premise and a wealth of spiritual applications, both pop-culture fanatics and savvy theologians will find the discussion fascinating with plenty of points to chew on for further contemplation.

Used by permission.  CCM Magazine © 2002.  Click here to subscribe.