"Faith That Breathes" - Book Review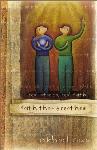 Author:      Michael Ross
Publisher:  Barbour & Co.
"Faith that Breathes" is a youth devotional, journal and small group study guide all in one. Consisting of dynamic elements such as Real Faith (daily Scripture readings and devotionals), Real Journey (stories and insights from contemporary Christian artists), Real Growth (thought-provoking study questions) and Cleansing Breath/Exhale (time and space for journaling), this tool could be used individually or with a group. I wholeheartedly agree with the author that this book would be a great resource to grow and unify a youth group before they launch into a service project or mission trip.
While "Faith That Breathes" deals with the basics of a Christian walk and discipleship, it does so in a challenging way that is appropriate for both new Christians and those continuing to mature their faith. Nowhere does this book talk down to, spoon feed or baby its readers.
Instead, it challenges them to make their faith personal, live authentic Christian lives, take responsibility as young adults for their decisions and actions, and remain committed to Christ and their relationship with Him.
"Faith That Breathes" honestly addresses the real pressures and difficulties young people face, while offering hope and Scriptural promises for them to cling to and hide in their hearts.

Used by permission.  CCM Magazine © 2003  Click here to subscribe.

Get 1 Christian Bestseller for FREE, plus FREE shipping.  Click here for details.