Family Shares How Children's Bible Shapes Kids' Faith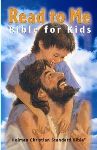 RICHMOND, Va. — With a variety of Bible storybooks scattered around their house, Paul and Madge Vosteen, members of Derbyshire Baptist Church in Richmond, Va., enjoy teaching their three children Scripture whenever they can. They contend it's never too early to start.
"We wanted to expose them to the Bible early on," Paul Vosteen said of his three children, Vaden, 11; Stryker-Ann, 8; and Wills, 4. "If you don't get them involved in reading Scripture at an early age, they will fill their minds with other things."
After years of hearing and reading Bible stories, both Stryker-Ann and Vaden have accepted Jesus Christ into their lives. The family hopes Wills also will make that decision when he is ready.
Vosteen recently read stories from the Holman Christian Standard Bible version of "Read to Me Bible for Kids" to Wills. This children's Bible is a follow-up to the New King James Version, and was recently released by Broadman & Holman, the publishing division of LifeWay Christian Resources of the Southern Baptist Convention.
"Read to Me Bible" was designed to help parents and teachers bring biblical characters and teachings to life through brief, illustrated Bible stories. Dozens of these stories, such as the creation of Adam and Eve, are highlighted on separate pages to be shared with children.
"The pictures are right there with the story, which is helpful," Paul Vosteen said. "Everything in it is pretty easy to find. My wife also liked the highlighted Scripture [that correspond with the verses used in the illustrated lessons]. The stories would also tie well into Sunday School curriculum."
The Bible includes additional material, such as "The ABCs of Becoming a Christian," biblical concepts for various age groups and a list of key verses and vocabulary words for children. The introduction addresses parents, teachers and children's leaders, challenging them to read Scripture to children at a young age – the younger, the better.
"They will learn as much as you are willing to raise the bar," Madge Vosteen said. She shared how she and her husband have challenged their children to tackle a variety of biblical concepts that will help them grow to be knowledgeable, Christian adults.
Parents don't have to be Bible scholars to impact their children's spiritual growth, said designers of the children's Bible.
"You will never make a mistake by seeing to it that the Bible is central to your child's age-suitable learning experience," wrote Jerry Vogel in the introduction of "Read to Me Bible." Vogel works with childhood ministry publishing at LifeWay Church Resources. "Children get just as excited about the Bible as you get excited about the Bible."
But raising godly children involves more than reading them the Bible and sending them to church, Vogel contended. Parents and teachers must also demonstrate how the Bible impacts their day-to-day lives.
"This truth will only become a reality in the lives of the children around you if they see you using the Bible," he said. "They must hear you talking about the Bible. You are to model for children the importance of God's message found in this Book."
"Read to Me Bible" can provide parents with a useful tool in teaching their children about the Bible, as well as give their children the most important gift they will ever have – the gift of salvation.
As the Vosteens watch their children continue to grow in their faith and their knowledge of the Bible, they know first hand how important the gift of a child's salvation is.


© 2005 Southern Baptist Convention, Baptist Press.  All rights reserved.  Used with permission.