A Stand-Up Guy Falls Flat
Susan Ellingburg

Crosswalk.com Contributing Writer

2011

25 Jul

COMMENTS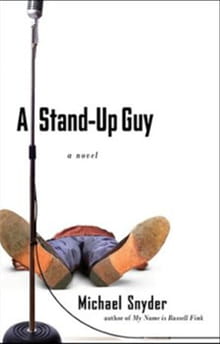 Author: Michael Snyder
Title: A Stand-Up Guy
Publisher: Zondervan
Oliver Miles is a wannabe comedian whose "day job" (he's actually on the night shift) is working as a hotel security guard. He's not a very good comedian, but he's not much of a security guard either, so that sort of balances out.
He's a vague guy, Oliver. Maybe he comes by it naturally; his mom is incarcerated in a medical facility that's part high-end nursing home, part prison. Delores Miles lives in her own little world, one where she's sometimes a nurse, sometimes an evangelist, but almost never anyone's mom. To his credit, that doesn't keep Oliver from trying to have a relationship with her, despite their painful semi-abusive past.
Oddly, it never occurs to Oliver to ask how an almost-indigent former convict pays for all that pricey healthcare. Of course, it also never occurs to Oliver to wonder who owns the house he lives in—squats in, more like—that is also kind of occupied by a mentally-challenged handyman. Oliver seems to pretty much go with the flow, which in his case appears to be heading for the nearest sewer drain.
Things start to look up when Oliver meets the hotel's new night auditor, Mattie. She's pretty—so he can while away the hours watching her on the security camera—and she even seems to be mildly interested in Oliver. Unfortunately, Mattie may also be the thief behind a string of hotel robberies, which puts Oliver in something of a moral dilemma.
Strangely, all this angst leads to some professional success for our young comic. Oliver decides he's going to leave the jokes behind and start telling the truth from the stage. His real-life stories about his crazy mom, midnight encounters at the hotel, and possibly klepto erstwhile girlfriend go over big, especially when he breaks down in tears on stage. Turns out the "crying comedian" may actually have a future in show biz. But speaking the truth is one thing—and "speaking the truth in love" is something else again. Will Oliver sacrifice his relationships for the sake of success?
There's a certain irony in the fact that Oliver is a stand-up comedian who isn't particularly funny—and unfortunately, neither is this so-called comic novel. The peek backstage at the often grim world of professional comedy felt authentic (if slightly grubby) but try as I might to find the humor in it all, I just was not amused. Too much of the tale was both awkward and painful, much like watching someone bomb on open mic night. The one comedy club Oliver wants to play more than any other is called "Downers" but, sadly, that would be an apt title for this book. Even some genuinely clever plot twists come too late to rescue the story from despair. Oliver may be A Stand-Up Guy, but this novel falls flat.