Chasing Sunsets Leads to Lessons Learned
Susan Ellingburg

Crosswalk.com Contributing Writer

2011

4 Jul

COMMENTS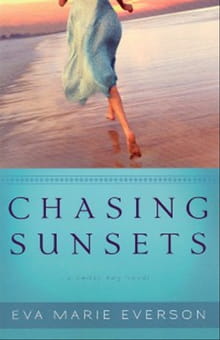 Author: Eva Marie Everson
Title: Chasing Sunsets
Publisher: Revell
Most people would view the opportunity to spend weeks in a vacation cottage on beautiful Cedar Key as a golden opportunity for a fabulous vacation. Kimberly Tucker sees it as a chore. She ought to be home with her two boys, spending the summer doing family things. Instead, despite her emotional appeal to the judge, the boys are with their dad (Kimberly's ex) for five long weeks.
It should be noted that Kimberly is a bit of a control freak. So when her life gets out of hand—her hands, anyway—she tends to fall apart. Fortunately for her, Kimberly's dad sends her down to look after the family vacation home on Cedar Key, a tiny oceanside community. Their former housekeeper has died, and Kimberly needs to find a new one. So she packs up the dog and heads south, determined to get it done and get back as soon as possible. After all, her boys need her (even though they're with her dad), her sisters need her (or so she thinks), and if she's home, just maybe she can keep it all together.
Which is probably exactly why God put her in Cedar Key, with its memories of her late mother and her first romance. Reminders of both are everywhere, especially when she spots her old boyfriend, Steven. Their relationship ended suddenly—and badly—after Steven went to college. But now he's back and she's back and . . . is it possible to get a second chance at your first love?
That remains to be seen. Meanwhile, Kimberly has other issues to deal with, like an uncomfortable realization about her mother. No spoilers here, but like many an old wound, it will have to be dealt with before it can heal. Then there's Kimberly's childhood friend, Rosa, who is not so friendly anymore. What's up with that?
No one should have to go through all that drama and self-discovery alone, and Kimberly is blessed with a darling 'little old lady' neighbor, Patsy. She's a wise, godly woman with a story of her own. We learn part of that story, but are left longing to know more. Here's hoping Patsy gets her own book, or at least another major supporting role; she's too interesting to leave for long.
While the majority of the story is viewed through Kimberly's eyes, we do get brief visits to the past as lived by Patsy, Steven, even Rosa. These little time-travel moments round out the book nicely and add great depth to the characters.
The inhabitants of Cedar Key have a charming tradition of gathering together each night to watch the sunset over the water. Well before the end of the story, you'll be wishing you were there to join them. It's not clear exactly where Cedar Key is on the map, but Chasing Sunsets is just the thing for a summer vacation.