Journey to Riverbend is a Winner of a Western
Susan Ellingburg

Crosswalk.com Contributing Writer

2011

4 Mar

COMMENTS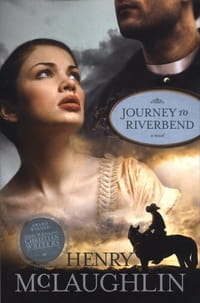 Author: Henry McLaughlin
Title: Journey to Riverbend
Publisher: Tyndale House

Young Ben Carstairs was no saint, but he didn't deserve to hang for a crime he didn't commit. Michael Archer watched it happen. He couldn't stop the hanging, but he can carry out Ben's dying wish: to be reconciled with his father, a man who washed his hands of his youngest son years ago.

Michael's a man with stains on his own past—some that may be worthy of a hangman's noose—but Michael found forgiveness and a new life with God. He knows a few things about dysfunctional family relationships and will do his best to make things right with Ben's father.

Rachel Stone has a past of her own—and it's not pretty. She is, though, and catches Michael's eye as soon as he meets her. She's focused on opening her new dress shop and has no time for men, even a man as handsome ... and as charming ... and full of integrity as Michael. Then again, she might be able to find a little time for him after all.

Michael expected to ride into town, have his talk with Sam Carstairs, and ride back out again. But that was before he met Rachel. It was before he learned Sam was out of town for an annual business meeting. It was certainly before the stagecoach raced into town with the news that Sam has been kidnapped.

Sam is no angel. He's the most powerful man in Riverbend but it's a power born of crooked business deals, lies, and bloodshed. Still, the town rallies to form a posse and go after him. Michael feels obliged to ride along; meeting Sam is why he's here. Isn't it?

This is no ordinary western. Oh, there are the usual good guys and bad guys, drunks, ranchers, "soiled doves" and lawmen. But in this story, the lawmen are apt to ask God for guidance and the saloon girls may be singing in church. Does that sound contrived? It's not—the characters are complicated and real. So is their God.

First-time author Henry McLaughlin keeps the tension tight as a new barbed-wire fence, shifting effortlessly between the posse's painfully slow pursuit, the women they left behind, and the horrors inflicted on Sam by his vengeful captors. Will Sam survive or will his past destroy him before the final shootout?

It's not often one comes across a novel that will appeal equally to male and female readers, but Journey to Riverbend fits the bill. There's enough romance and feminine details to keep women happy and enough tough guy adventure for the manliest of men. No wonder McLaughlin won the Jerry B. Jenkins Christian Writers Guild Operation First Novel contest with this story. I can't wait to see where his next journey leads.