Randy Alcorn's The Chasm is Deep Reading
Susan Ellingburg

Crosswalk.com Contributing Writer

2011

23 Feb

COMMENTS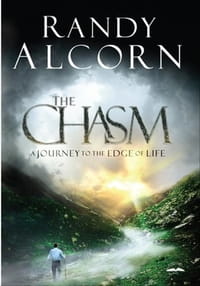 Author: Randy Alcorn
Title: The Chasm
Publisher: Multnomah Books

What is the best way to describe Randy Alcorn's The Chasm? A modern man's pre-conversion Pilgrim's Progress, maybe? It is allegorical, fantastical, and emotionally rich. Light reading, it's not; this is a book that makes you think.

The Chasm is adapted from Alcorn's earlier story Edge of Eternity. Both follow protagonist Nick Seagrave in his spiritual journey to (as the subtitle tells us) "the edge of life."

Nick is your basic modern man who finds himself on a journey in another world. Is it a dream? Or is this reality instead of his "real" life? The book doesn't explain how Nick gets to this unnamed land; we pick up the story as he travels through the strange world trying to get to a city called "Charis, the City of Light."

Along the way, Nick meets up with various characters who in true allegorical tradition tend toward titles rather than names. There's the Woodsman, the Shining Warrior, and so on. One of the exceptions to this trend is Joshua, who guides Nick through much of his journey. There's a sneaky little twist in Joshua's story. He's not who Nick—or the reader—thinks he is.

That's only one of many lessons The Chasm has to offer. Nick learns the way to Charis is via the "Red Road" but there are so many interesting roadside attractions to try. Alcorn does a marvelous job describing these temptations both before—when they seem so appealing—and after, when the underlying degradation and horror becomes all too clear.

Eventually Nick does find himself at the end of the Red Road facing the chasm of the title, an "abyss of staggering proportions" that cannot be crossed. There's no way for him to get himself to the other side. Someone will have to make a way for him. Someone does. The "crucifixion" scene is particularly hard-hitting, making the whole thing highly personal. (Which, of course, it was.) And after the resurrection? I defy any thoughtful reader to get through the following declaration of love from the Chasm Crosser without tears in their eyes: "I did it for you ... I would have done it for you alone ... And if there was need, I would do it for you again."

Wow.

Alcorn's style is more C. S. Lewis than John Bunyan, but (naturally) more modern than both. Calvin Miller's The Singer is the closest example that springs to mind, though I must confess Nick's fixation with Charis occasionally reminded me of Dorothy's quest to reach the Emerald City in The Wizard of Oz. Fortunately for Nick, there's no "man behind the curtain" in this story. Instead, he finds a King, a calling, and a road home.

The book includes twelve original drawings by Mike Biegel. They're good reminders to stop and ponder the action illustrated and what it all means. You'll probably want to stop and ponder a lot; The Chasm is deep in more ways than one.