Final "Guardian King" Book Rich in Detail, Depth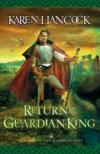 Author: Karen Hancock
Title: "Return of the Guardian King"
Publisher: Bethany House
Abramm Kalladorne hears his wife singing and is positive she's just ahead of him with their two sons. A reunion with his wife Maddie and sons Ian and Simon is what he longs for the most.
He picks up his pace and reality intrudes when he stumbles. He isn't in a sunny meadow, ready to reunite with his family. One person in a party of refugees, he is lost in a snowstorm, high in the mountains. His wife and sons are miles away, and chances are Abramm won't get out of the mountains until spring. His true identity, King of Kiriath, is unknown to his traveling companions, but not to the evil that follows. Moroq, his oldest and strongest enemy, will stop at nothing to destroy Abramm.
Madeleine Abigail Clarice Donavan Kalladorne, wife of Abramm, has made it to Fannath Rill, the royal city in her home country of Chesedh, alone. Simon, her oldest son, is missing and Ian was killed during their escape. She believes Abramm is dead as well, burned in Execution Square before hundreds. An outcast in her own country, Maddie finds her own faith tested to breaking as she confronts jealousy and betrayal from within her own Chesedhian family and pressures to conform to social propriety her status as First Daughter demands.
Against these personal struggles the war with the Eshurites escalates. Abramm is forced to choose between his faith and his family. Which will come first? Maddie is forced into the war as well, in a role she neither desired nor wants, but must take for the sake of her people.
Other characters familiar to readers of "The Guardian King" series have their own titanic struggles as well. Forced to grapple with the loss of their king, his sons and their country, these refugees must survive in a country hostile to their own and to their religious beliefs. Their grief is thrown into turmoil when travelers bring rumors that Abramm isn't dead, but on his way to Fannath Rill. Good news to his loved ones, unwelcome news to everyone else.
"Return of the Guardian King" is the final book in the "Legend of the Guardian King" series. Multiple Christy Award winner Karen Hancock has created a story world rich in detail and depth. Her well-written characters draw you into their world with their triumphs and struggles, failures and successes, heartbreak and joy. Much of her writing reminds me of JRR Tolkien's, especially in when it comes to creating story worlds and the characters that inhabit those alternate universes. It is Abramm's story, a man determined to follow his first love, no matter what the cost.
"Return of the Guardian King" holds to the same high standards set in the previous books, making the whole series keepers on my shelf.


© 2007 Infuze Magazine. All rights reserved. Used with permission.