"First Light" - Book Review
Whitney Hopler

Crosswalk.com Contributing Writer

2003

5 Aug

COMMENTS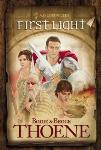 Authors:    Bodie and Brock Thoene
Publisher: Tyndale House Publishers

Masterful writers Bodie and Brock Thoene have achieved yet another success with their new novel "First Light."  Set in Jerusalem during the time of Jesus' ministry work, the book weaves together the stories of various characters living in a world of darkness who encounter true light when they encounter Yeshua (Jesus).

The Thoenes are careful to provide lots of historically accurate details, but, even more than that fine research, their gift for description is what pulls readers into the story.  They make the scenes come alive so vividly that readers feel as if they have crossed time and space to be in Jerusalem while Jesus was on Earth.  As readers follow the adventures of characters like a blind beggar, a couple whose love is forbidden, a Jewish shepherd, and a Roman centurion, it's as if they can see, hear, smell, touch, taste, and feel those experiences.

Believable dialogue draws readers into the story even more.  Writing dialogue for Yeshua can be quite tricky, since, after all, He is God.  But the Thoenes have Yeshua speak mostly the words that Scripture records Him speaking, placing their fictional characters around Him as He tells His parables and interacts with biblical characters (such as Mary and Martha).

At times, the Thoenes go a bit overboard drilling their theme into readers' minds, repeating the phrase "First light" and the name of one character ("Peniel," which means "one who has seen God face to face") over and over.  But the way they illustrate the theme is often brilliant, especially when they show the spiritual darkness around one character whose eyes are gouged out, and the spiritual light around another whose sight is restored.

Get 1 Christian Bestseller for FREE, plus FREE shipping.  Click here for details.