"Following Gandalf" - Book Review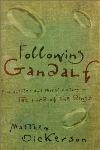 Author:      Matthew Dickerson
Publisher:  Brazos Press
Thanks to Peter Jackson's film-adaptation of "The Lord of the Rings" trilogy, Web sites, books and college classes, among other things, have sprung up to assuage the fascination with J.R.R. Tolkien's Middle Earth. Add to that list "Following Gandalf: Epic Battles and Moral Victory in The Lord of the Rings," and you have an excellent resource for the college student with an upcoming paper or a Rings enthusiast.
Important to know before reading "Following Gandalf," however, is the need to be well-versed with plotlines and characters and to read the book — not just see the movies, since many of the nuances author Matthew Dickerson refers to can only be understand with the text.
To that end, via detailed explanations and various examples, Dickerson theorizes about how Tolkien portrays war, the importance of moral over military victory and the importance of moral responsibility that pervades all of Tolkien's writings.
The result is a well-documented, in-depth study for "Rings" lovers looking for more than just entertainment.

© 2003 CCM Magazine.  All rights reserved.  Used with permission.   Click here to subscribe.