Former So. Vietnamese Officer Tells of Amazing Conversion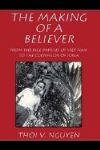 Author:  Thoi Nguyen
Title:  "The Making of a Believer"
Publisher:  PublishAmerica
In his recently released book "The Making of a Believer," author Thoi Nguyen recounts his dramatic life story during the Vietnam War and the many instances where God intervened on his behalf.
Nguyen depicts his childhood in a Buddhist home, as well as his life experiences with a war that was so much a part of the Vietnamese history spanning back to both the Japanese and French occupations of that country.
In the book, Thoi describes his parent's difficulty in feeding their family even after their move from the province to the city of Saigon. He tells of his fight to save the life of his future wife, Thuy, during the infamous Tet Offensive. The author also speaks of his conversion and his service in the South Vietnamese Army. He later became the manager of agricultural research for the Ministry of Agriculture of the South Vietnamese government.
Nguyen's story is evidence of a God who is there and who intervenes in the lives of His followers. He recounts the details of his dramatic escape from Vietnam soon after its fall in 1975, as well as his capture by communist North Vietnamese and his miraculous escape.
The author says he wrote his life story to "help others find peace with themselves and with God."  Nguyen believes that his book will provide fresh insight and personal perspective into a time that so deeply divided the United States.
The book allows the author to expound on his thankfulness to the Christian people in Minnesota who sponsored him and his family in the United States.
Since arriving in the north central U.S., members of Nguyen's family have become strong, contributing partners in that region. His son, Thy, is assistant director of career services at Northwestern University. His other son, Thi, is a police officer. His daughter, a student at the University of Minnesota, is studying to become a dentist. And the author, who now lives in Iowa and is following the agricultural career path he began so many years ago in Vietnam, is currently a district sales manager for AgVenture of Iowa.
"The Making of a Believer:  From the Rice Paddies of Viet Nam to the Cornfields of Iowa" can be ordered through PublishAmerica.com.  Nguyen is hoping that as people read his book, they will see that through the power of faith, hope, and love, they can face the difficult challenges of life.
© 2006 AgapePress.  All rights reserved.  Used with permission.