"Foundational Faith" - Book Review
Whitney Hopler

Crosswalk.com Contributing Writer

2003

23 Apr

COMMENTS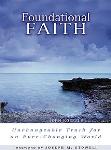 General Editor:  John Koessler
Publisher:            Moody Publishers
Now that the world has entered its third millennium, the Gospel message and orthodox Christian beliefs have taken a battering from relativistic attitudes that are becoming more and more rampant.  So professors at the Moody Bible Institute have put together a book that explains and defends core evangelical beliefs.  "Foundational Faith: Unchangeable Truth for an Ever-Changing World" covers the authority of Scripture, the virgin birth, the deity of Christ, the atonement, the bodily resurrection and physical return of Christ, and Christ's position as head of the church in its collection of articles, while also successfully encouraging readers to practice these beliefs in their own lives.
Far too many books focused on theological issues are unfriendly to ordinary readers.  Happily, "Foundational Faith" is so clear and engaging that it should hold the interest of laypeople as well as that of clergy and seminarians.  Its articles prove surprisingly fascinating to read as they discuss the historical evidence for orthodox beliefs and the history of how they came to be challenged.
Even better, each article concludes with a section that explores how each doctrine can make a practical difference in people's lives today.  By explaining why it's important to hold fast to these orthodox beliefs, the authors convince readers to care about the issues at hand, and motivate them to think and pray about the book's material as it applies to their own lives.  Some of the articles do a better job of this than others (for instance, the one on the virgin birth discusses practical implications much more thoroughly than the one on the resurrection).  But each article addresses the practical side of its topic in some way.  That's very valuable for readers, because it brings the discussion down from the realm of lofty theological debate and into the realm of ordinary life.

Get 1 Christian Bestseller for FREE, plus FREE shipping.  Click here for details.