Fourth in "Mike Connolly Series" Brings Life Full Circle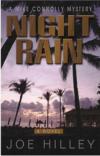 Author: Joe Hilley
Title: Night Rain
Publisher: River Oak
When we first met Attorney Mike Connolly in Sober Justice, he could barely make it through the day without a drink. He was divorced, estranged from his only daughter and newly born granddaughter, and sharing his bed with an exotic dancer. In Night Rain, his life has come full circle.
With Connolly's story, Joe Hilley has managed to do what many authors only dream of. In the four books, he not only tells stories that stand on their own, but also manages to create a complete story arc that spans all four novels.
When Dibber Landry decides to take advantage of the eye of the hurricane plaguing Mobile Bay by looting nearby beach homes, he gets more than bargained for, discovering a dead body. When the police discover the murder victim, Dibber quickly becomes their chief suspect. As usual, Mike Connolly is called in to defend a somewhat innocent man.
Due to the natural outgrowth of events from the Electric Beach, Connolly is left for the first time without his primary investigator and friend, Hollis Toombs, which forces him to go through some events and into some neighborhoods that he'd rather avoid. As a result, Connolly comes face-to-face with more demons from his past—some that he didn't even realize were still an issue.
Hilley's writing is at its finest when he's doing two things: making a compelling court case, and showing his characters at their most human. While Mike Connolly was delivered from his addiction to alcohol through a spiritual experience in Sober Justice, he, like all alcoholics, is still tempted and still falls. He still struggles with the other consequences and temptations of his old life, including lust and a fear of failure.
For the first time, Connolly manages to not drink once during this case, in part because he's distracted by the other issues he's dealing with. But it's a telling sign that while Connolly goes through more personally stressful problems than he's ever faced before, he never once takes a drink, or even thinks about it.
But, much like God's purpose for our lives, Hilley illustrates that God has a plan for Connolly's life as well. Everything he's gone through since his revelatory experience in Sober Justice has led down the path to allow Connolly to resolve many of his personal demons and find reconciliation and redemption in many areas of his life.
Along the way, he does his best to defend his client, despite Dibber's propensity for lying and attempting to ignore or mask the truth in new and creative ways. But this story is far less about the case and much more about the development of Connolly.
While I won't ruin the ending, anyone who has followed the Mysteries of Mike Connolly will find themselves satisfied and looking forward to the next chapter in his life.



© 2007 Infuze Magazine. All rights reserved. Used with permission.