Fuse Unlike Other End-Times Novels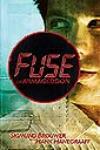 Authors: Sigmund Brouwer and Hank Hanegraaff
Title: Fuse of Armageddon
Publisher: Tyndale House Publishers

The fuse is lit; the count-down begins. The combustible material-opposing Jewish, Christian, and Muslim religious beliefs that mandate ownership of Temple Mount in Jerusalem.
Fuse of Armageddon, by co-authors Sigmund Brouwer and Hank Hanegraaff, is unlike any end-times novel you've read. Fuse is a fast-paced, international political suspense shaped by the theology of radio's "The Bible Answer Man," Hank Hanegraaff. Don't go looking for drooling, sulfur-stinking Satanic beings in Fuse. Evil in this novel is portrayed much more subtly as it influences human decisions based on human pride, just as it behaves in real life. Fuse is terrifying because it's based on the realistic premise of what could happen if men driven by intemperate religious fervor seek to force God's hand to bring about Armageddon.
Brouwer's characters are interesting and likable. Mulvaney Quinn, a tough and experienced hostage negotiator based in Tel Aviv, cuts short his Vegas vacation to return to the Gaza strip to bargain for the release of an American businessman's wife and child. Quinn, who believes that "when terrorists kidnapped rich Americans, it wasn't about ideology, [but] only money to finance the ideology," discovers he has been set up for purely personal reasons.

Meanwhile, Nevada detective Kate Penner follows an anonymous trip to the Hoover Dam and finds a packed van containing the body of a dead Middle Eastern man; he's strung upside-down, a gold paper cross stapled to his back, and an American flag tucked in his belt loop. The tip also provides the phone number to the National Counterterrorism Center in Washington.
Kate connects Quinn to the murder and travels to Israel to arrest him. Before Kate can extradite Quinn, Muslim terrorists attack popular end-times TV evangelist Reverend Jonathan Silver and a tour bus of wealthy American supporters are attacked at Megiddo; some are killed, others taken hostage and held for millions in ransom by Muslim terrorists. Quinn, now under the watchful eye of Detective Kate Penner, attempts to negotiate Silver's release and stumbles upon the plan to bring the Middle East to the brink of destruction.

I recommend that you read Fuse of Armageddon. At the very least, it will entertain you; but it may cause you to re-evaluate the biblical foundation for popular "end-times" fiction.


© 2007 Infuze Magazine. All rights reserved. Used with permission.