"Gospel Trailblazer" - Book Review
Whitney Hopler

Crosswalk.com Contributing Writer

2003

20 Jun

COMMENTS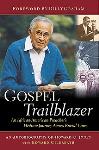 Authors:    Howard O. Jones with Edward Gilbreath
Publisher:  Moody Publishers

During a time of strong and prevalent racial tension, Howard O. Jones joined the Billy Graham Evangelistic Association and traveled the world to help conduct crusades.  He was the only black man among many white men, and the tensions of the segregation era constantly threatened him.  But he had learned earlier in life how important it was to follow God's call wherever He led, so he continued his ministry.  And as a result, God used Jones' witness to change people's hearts.

Now Jones has written his autobiography with the help of author and editor Edward Gilbreath.  The book, "Gospel Trailblazer: An African-American Preacher's Historic Journey Across Racial Lines," is a folksy and sometimes poignant look at his life.  As promised, it does discuss Jones' experiences with racism (during his childhood, at a predominately white Bible college, and during his ministry work, which began in the 1940s).  But the main theme that emerges is his passionate and enduring love for his late wife Wanda.  Jones sometimes seems a bit emotionally distant and matter-of-fact when he tells stories of his encounters with racism, but whenever he discusses Wanda (which he does just as often as when he discusses racism), his heart comes through powerfully.  The chapter on her agonizing death from Alzheimer's disease is a tearjerker.  No matter what he's discussing, however, Jones comes across as a sweet and sincere gentleman who anyone would like to know.

Jones' longtime friend and boss Billy Graham has written a foreword to the book, and is featured in several of the book's photos.  Readers also get a bonus in the form of a CD on which they can hear Jones preaching a sermon and his son David singing a worship song.
Get 1 Christian Bestseller for FREE, plus FREE shipping.  Click here for details.