Groot's "Madman" an Ancient Story With a Supernatural Twist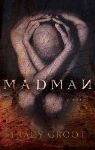 Author:  Tracy Groot
Title:  "Madman"
Publisher:  Moody Publishers
Tallis, servant of the Greek philosopher Callimachus, arrives in Palestine, a "scorched puck of a province", to check on the Decaphiloi, (League of Ten Friends) and the Academy of Socrates, a school and its teachers bankrolled by Callimachus.
What he finds is a mystery. The school ceased to exist three years ago. The students are scattered. Six of the ten teachers have vanished. Of the four teachers he can account for, one was murdered, the second committed suicide, the third is a priestess in the temple of Dionysus, and the last is a madman, living in the nearby Gerasene tombs.
In his search for answers, Tallis is brought face to face with the Maenads – female followers of the god Dionsysus – as they prepare to welcome the incarnate presence of their god. Tallis witnessed this ritual when he was twelve and the horror of it haunts him still.
As Tallis strives to stop the Maenads before the macabre ritual claims the life of the young boy, Zagreus, the demons that possess the madman of the tombs seek out Tallis. His only help comes from Samir, a slave that has a mysterious power the demons can't fight. But when the need is greatest, even Samir fails and Zagreus' life hangs in the balance.
At the root of it all is the Madman. His presence haunts the countryside as the evil within him becomes stronger every day. Only a miracle, one that comes from Across The Sea, can restore his sanity and set life the way it used to be.
"Madman" is based on the Gerasene demonic written about in the Gospels of Matthew, Mark, and Luke. Tracy Groot takes these accounts and weaves a story about evil, oppression, love and restoration. She does a good job of taking the reader inside the head of the demonic, to feel his torment. Her thorough research is present in the book as she tries to recreate ancient Palestine. But use of modern terminology may jar the reader out of that world she's so carefully constructed. A few stumbles occur when ancient words are used in the book, but the context doesn't quite make their meaning clear.
The book's title is a bit misleading. The Madman is more of a secondary character throughout the book and doesn't take on a primary role toward book's end.

 © 2006 Infuze Magazine.  All rights reserved.  Used with permission.