Heart of a Lion - Book Review
Whitney Hopler

Crosswalk.com Contributing Writer

2002

8 Oct

COMMENTS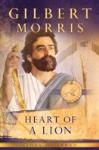 Heart of a Lion is full of such vivid imagery that it makes readers feel as if they're temporarily living during the time of the biblical hero Noah.  So much has been written about Noah and his potential exploits on the ark that it's refreshing to have a book explore what adventures he and his family might have had before God called him to undertake that famous project.
The story details Noah's struggles to be obedient to God (called "the Ancient One" or "the Strong One") in ways that make him seem quite human (unlike many Sunday School stories that portray him as little more than a kindly zookeeper).  It deals with Noah's earlier days, showing him confronting the temptation to marry the wrong woman (a pagan worshipper of the god Ur-Baal) and wrestling with his fear of the future while building the ark to prepare for the flood.  Finally, the flood does come, and Morris writes eloquently about its raging furor.  The book ends shortly after the floodwaters have receded and Noah's family has begun repopulating the earth.
While the action is exciting, the dialogue is often too obvious, with characters announcing how they feel ("I am happy, son") when that's already apparent or repeating something that readers already know ("You killed my brother!") as if the characters are still trying to absorb what's happening.  The effect is that Noah and his family sometimes sound so thick-headed that it's hard to believe people with high IQs actually descended from them.
Still, the book holds readers' attention throughout its long plot and gives them a portrait of Noah that can help them identify more with his struggles and ultimate triumphs in his walk with God.