"Helping Those Who Hurt" - Book Review
Whitney Hopler

Crosswalk.com Contributing Writer

2003

30 Jun

COMMENTS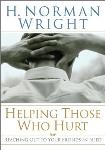 Author:      H. Norman Wright
Publisher: Bethany House

Support and encouragement from friends is vital for people who suffer significant losses like the death of a loved one, the end of a job, a divorce, or a serious illness.  Most people with hurting friends sincerely want to help them, but many don't know how best to do so.  It can be awkward or even downright scary to know what to say and do for a friend who's undergone a crisis or trauma.  Thankfully, prolific author H. Norman Wright (author of more than 70 books) delivers insightful help on this topic in his new book "Helping Those Who Hurt."

More than just presenting "how to" tips, "Helping Those Who Hurt" helps readers understand the thoughts and feelings experienced by people grieving a loss.  As he does so well in many of in his other books, Wright draws upon his rich experience as a licensed marriage, family, and child therapist and certified trauma specialist to explain how people experience suffering.  These valuable insights can give readers the foundation they need to empathize with hurting friends, no matter what their unique situations.

Wright befriends the reader with his direct, conversational style, so the book is easy to read.  Its organization can seem a bit untidy because the chapter's topics sometimes overlap, but whenever Wright revisits an issue in a different context, he has a valuable new point to make about it.

Readers may be relieved to discover that the book not only suggests what's wise to do, but also what's best not to do when trying to help a hurting friend.  The clear "do and don't" guidelines remove the sense of nervous ambiguity that often paralyzes people with hurting friends.  The book frees them to follow God's call to help their friends in ways that can bring hope and healing.

Get 1 Christian Bestseller for FREE, plus FREE shipping.   Click here for details.