Holmes Crafts a Powerful Story in Crossing Oceans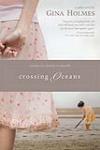 Author: Gina Holmes
Title: Crossing Oceans
Publisher: Tyndale

Gina Holmes has crafted a poignant, emotional story that explores family dynamics and the power of love.

Jenny Lucas returns to her small North Carolina town with a heavy burden. Her five-year-old daughter is about to meet the rest of her family—including the father she's never known. This journey home comes to pass totally against Jenny's will, for she had sworn never to return when she fled years ago. But life—and death—commandeered her future and forced her hand. What happens at this difficult family reunion will determine the future for all involved.

Jenny's primary concern is for Isabella, an endearing child full of imagination and loyalty. Who will care for her after her mother is gone? Jenny's father, distant and judgmental, or David, the boyfriend who broke up with Jenny before she could tell him he was going to be a father? These imperfect men are her only options.

Jenny fights to establish Isabella's future while grieving that she won't be part of that future. At the same time, she searches each day for those moments that will become sweet memories for Isabella. While putting the past to rest, she plans for the future to the best of her ability.

This book is emotional. One scene might have you laughing, then crying a moment later. Anyone who has walked with loved ones through their dying days will relate to the rollercoaster journey of saying goodbye. In portraying Jenny, using the first person point of view, Holmes draws on her personal experience as a nurse who has dealt with the sick and dying. She appears to have walked in Jenny's shoes, living the ravages of illness, grief, anger, worry, and fear.

Some of the characters handle the situation better than others. All of the main characters are well-developed, written with depth and complexity—some more than others, of course, but none of them remain unchanged by the story's end. You'll find yourself rooting for them to find peace and reconciliation.

I'm not giving anything away when I say that there can be no happy ending. But in the middle of suffering, Jenny learns to savor those moments of grace, to embrace the unexpected joys that life can bring. It's a lesson we all can learn.

Getting to the end of the story requires nothing more than time. Holmes keeps the tension tight throughout, skillfully drawing out the story so that readers keep turning the page. And when the last page is turned, you'll wish there were more.

Set your tissue box close by, readers. This one will grab you hard.


**This review first published on May 24, 2010.