Holy Land Church Thriving Amid Conflict, Author Says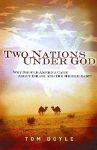 An expert on the Middle East says Christianity is flourishing in the war-torn region.

In his new book, "Two Nations Under God" (Broadman & Holman), Tom Doyle says America has been blessed in the past because the United States has supported Israel. Despite the violence shown nightly on network television, he says it is evident that God's hand is moving in Israel and the surrounding Arab countries.

"The worst place to be a Christian is really the best place to be a Christian," Doyle says, "and right now, in the Gaza Strip, that has been rated one of the most dangerous places to live as a Christian. But yet there's a church there that's flourishing."

The author says the Christian church in Israel is active and vibrant, and believers there are daily winning people to Christ, preaching the gospel, feeding the poor, and helping the homeless in their country. "They are doing some great things," he adds, "and they're growing in the midst of it."

However, Doyle notes that as more and more Jews and Palestinians are coming to Christ, the reconciling influence of the Holy Spirit comes into play. "When someone comes to Christ," the author explains, "God has to do a second work, whether they be Jewish or Arab, to soften their heart toward other believers – believers that come from an ethnic group that has been considered the enemy."

But for many of these Holy Land Christians, the author says, their passion and commitment to Christ exceeds their political allegiances. "Recently we've seen just a sweet spirit, as the wall between Jew and Gentile is coming down and Palestinians and Jews are praying together, helping each other."

Doyle and his wife lead tours to Israel several times a year. He says it is vital that America continue supporting and praying for Israel.


© 2004 AgapePress.  All rights reserved.  Used with permission.