"How Would Jesus Raise a Child?" - Book Review
Whitney Hopler

Crosswalk.com Contributing Writer

2003

24 Mar

COMMENTS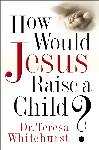 Author:     Dr. Teresa Whitehurst
Publisher: Baker Book House
The market is saturated with parenting books that offer advice from the Scriptures on raising children.  But "How Would Jesus Raise a Child?" takes a unique approach to the subject.  Rather than looking just at biblical passages that mention parenting, the book considers Jesus' entire life and ministry, then encourages its readers to incorporate His attitudes into their own parenting approaches.
For the past several years, it's been fashionable for us Christians to ask ourselves, "What would Jesus do?"  But since Jesus never fathered a child during his earthly life, it may not often occur to us to look to Him as a parenting role model.  Still, as author and clinical psychologist Teresa Whitehurst points out, Jesus did raise scores of children in one sense through guiding, encouraging, and training His disciples and others He encountered during His ministry work.  Through it all, He saw people's hearts and responded to them.  And, Whitehurst writes, He will help us do the same with our children if we study His example and pray for His grace.
This is a great concept for a book, and also quite a thought-provoking one.  Rather than simply listing principles for parents to follow as if there were some sort of magic formula for raising children, it motivates them to think and pray about how Jesus would like them to make decisions and interact with their children in all different types of situations.  Whitehurst has organized the book well.  In every chapter, she includes specific lessons from Jesus, then follows up with a section called "Remember and Reflect" that helps readers apply the material to their lives.
"How Would Jesus Raise a Child?" can prove just as useful for parents' own spiritual growth as for that of their children.  In fact, the first part of the two-part book is titled, "Our Inner Growth Comes First," since Whitehurst wisely writes that parents can't give their children what they don't have themselves.
Readers would get the most of the book if they were to read it slowly, one chapter at a time, rather than straight through.  This would give them the time they need to ponder its important points.

Get 1 Christian Bestseller for FREE, plus FREE shipping.  Click here for details.