One Sunday is a Romantic Comedy With Substance
Christa Banister

Crosswalk.com Contributing Writer

2013

4 Feb

COMMENTS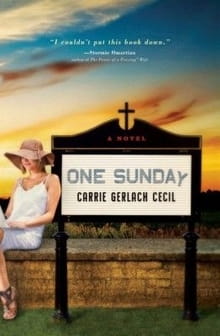 Author: Carrie Gerlach Cecil
Title: One Sunday
Publisher: Howard Books
While great strides have been made in making female protagonists more realistic in today's Christian fiction, one couldn't help noticing how thoroughly true to life Alice Ferguson is in Carrie Gerlach Cecil's One Sunday.
Instead of making Alice the requisite twentysomething who's got the perfect career, a thriving relationship with God and only lacks that missing puzzle piece, the perfect guy, One Sunday's leading lady is smart, successful and pretty much only landed the guy of her dreams because she's pregnant with his baby.
And when her pregnancy, not to mention her marriage, doesn't go as swimmingly as she'd hoped (health problems and a lack of lasting compatibility are wrecking havoc), Alice is forced to evaluate what's really important in life for her, her hubby and the child she's about to welcome.
Forced to choose between her fast-paced journalistic career where there's always a party to crash and a simpler more fulfilling life with a decidedly slower pace, she reluctantly opts for the latter, which leads her on an adventure she never expected.
Like the best romantic comedies, One Sunday isn't short on humor, especially when Alice makes the transition from life in Los Angeles to a quieter place with plenty of stars in the making, Nashville. In fact, the description of suburban life couldn't be funnier with neighbors as plastic as a Tupperware container.
The real gamechanger, however, is when someone invites Alice to church. Although she's more out of her comfort zone than she's ever been (and trust me, she's plenty skeptical about faith, even mocking the people sitting nearby in the pews), she finds something that forces her to take a good, long look in the mirror.
With engaging characters, a strong plot and a distinctive voice courtesy of Gerlach Cecil, who's had her work optioned for an ABC television show in the past, One Sunday is a delight from start to finish. And like the best romantic comedies, and no, I'm not talking about the recent lot starring Katherine Heigl, there's plenty of exciting twists and turns along the journey to a crowd-pleasing finale.
*This Review First Published 2/4/2013