The Lost Medallion Finds a Home in Print
Ryan Duncan

2013

28 Aug

COMMENTS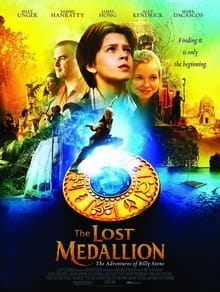 Author: Bill Muir and Alex Kendrick
Title: The Lost Medallion: The Adventure of Billy Stone
Publisher: B&H
Most people know it's only a matter of time before a popular book becomes a movie. Whether it's Harry Potter, The Hunger Games, or a Percy Jackson sequel, the silver screen has a habit of capitalizing on anything the literary market happens to put out. Naturally, it was only a matter of time before publishers began to return the favor. These days it's not uncommon to find a printed version of an original movie at your local bookstore, and while it's difficult to translate any story to a new medium, there are always a few that manage to pull it off. The Lost Medallion: The Adventures of Billy Stone is one such example.
For those readers who haven't yet seen the movie, The Lost Medallion tells the story of a young archaeologist named Billy Stone. For most of his life, Billy has been searching for an ancient medallion with the help of his father and best friend, Allie. Legend has it the medallion was capable of granting wishes, but it was lost after a proud action caused it to break apart into two pieces. When the medallion is finally discovered, Billy and Allie are transported back in time where their island home and its peaceful population are under attack by the evil Cobra, who hopes to steal the medallion for himself. In order to save the island and return to their time, Billy and Allie must team up with a selfish prince, his best friend, and a wise old man to unlock the true power of the medallion.
When I first reviewed the film of The Lost Medallion, I felt that the movie had potential but was ultimately weighed down by a tangled storyline. This new version simplifies things, giving readers smoother transitions and filling in a few of the story's plot holes. The book also has the advantage of giving the characters more depth. Where the young heroes appeared largely two-dimensional on film, the book allows readers to explore their inner thoughts and feeling, allowing them more substance. As for the Christian message, it stays true to film, reminding its audience that God doesn't make anyone by mistake.
Readers may find a few negative details to pick over. The writing is just "ok", and at times the dialogue can sound stale or contrived, but for a kids book The Lost Medallion comes out looking much better than the movie. It probably won't turn any heads, but any child who picks it up should be sufficiently entertained. Plus, the book includes plenty of cross-media like pictures and video links for kids who aren't natural readers. All in all, The Lost Medallion may not have the drama of its film counterpart but it gives more time to the story, making it feel much more personal and relevant than before.
*This Article First Published 8/27/2013