Inexpensive Gift-Giving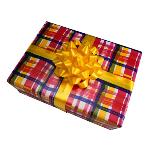 What does inexpensive gift-giving have to do with celebrating a Christ-centered Christmas?  When you consider that $2.8 million dollars were put on credit cards every ten minutes between Thanksgiving and Christmas in 1998, you realize that our focus has been more on buying gifts than on celebrating the Gift.  When we are less concerned about our pocketbook's depletion, our minds are freer to focus on the Christ-child.  And as Jesus so wonderfully demonstrated, the best gifts can neither be bought nor sold.

Here are a few inexpensive gifts that will touch the heart but leave the pocketbook intact.
Make coupon booklets for your children.  "This coupon is good for one game of Monopoly," "for having me stop lecturing you when you think I'm overreacting," "for a dozen donuts," "for an hour past curfew", "for a steak dinner," "for a hug," etc.



Make a coupon booklet for your spouse.  I'll let you come up with the suggestions!


Write letters.  Actions do speak louder than words, but people need words, too.  Write a letter to your spouse or your children telling what you appreciate about them and why you are glad they belong to you.


Give something of your own that a friend or relative has admired.  The mother of a college friend of mine gave me a beautiful Stratfordshire blue antique plate that I had admired.  It's one of my treasured possessions.


Make a scrapbook for your children, your parents, or your spouse.


Copy your favorite recipes on cards and give to a newlywed.


Write a letter to the person chiefly responsible for leading you to the Lord.


Make a video of your children to send to relatives who live far away.  (Grandma and Grandpa would much rather receive this than another pair of bedroom slippers.)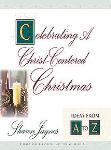 From "Celebrating a Christ-Centered Christmas."  © 2001 by Sharon Jaynes.  Used by permission of Moody Press.  All rights reserved.

Sharon Jaynes is the President of The Proverbs 31 Ministry and author of "Being a Great Mom", "Raising Great Kids", "At Home with God" and "Stories of Life, Love and Laughter."  She lives in North Carolina with her husband Steve and son Steven.