Jane Austen's Life the Focus in Just Jane
Annabelle Robertson

Crosswalk.com Entertainment Critic

2007

4 Sep

COMMENTS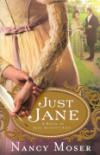 Author: Nancy Moser
Title: Just Jane
Publisher: Bethany House
Considered to be one of the greatest writers of all time, Jane Austen is the author du jour right now. Academics appreciate her pioneering literary technique, and readers across the generations remain enthralled by her stories of love among the English upper classes. She is, many insist, the inventor of the "chick lit" genre. And her novels, which have all been made into films (the latest of which is Becoming Jane, starring Anne Hathaway) have sold millions of copies.
Sadly, however, 'twas not always the case.
Like so many geniuses, Austen's talent was barely recognized during her lifetime. It was not until the 1900s—more than one hundred years after her death—that her novels actually began to sell in large quantities. And this, despite the unequivocal praise of contemporary writers like George Elliot and Rudyard Kipling.
Author Nancy Moser (Mozart's Sister) is the latest to tackle Austen's life, which ended when she was just 41, after an unexplained bout with ill health. Moser chronicles the years between 1795, when Austen was 20, and 1816, when Emma was first published.
Jane spends her days reading, writing and chatting with her beloved sister Cassandra, who like Jane is in love. Cassandra, Jane's elder by two years, is betrothed to Tom Fowle, a naval chaplain. Jane is smitten with Tom Lefroy, an Irish law student. Sadly, however, marriage never happens for either. Fowle dies on active duty, leaving Cassandra so heartbroken that she never marries. And Lefroy surprises Jane by marrying a woman of means (he eventually becomes Lord High Justice of Ireland). Instead of marriage, therefore, Jane finds her calling in her writing.
Moser reportedly based her writing on family letters, historical writings and careful research. In a letter to her readers at the end of the book, she challenges the assertion made by Jane's nephew, James Edward, in his biography of his aunt. "I found Jane's life to be quite full and eventful," Moser insists. "Evident among her days are every dose of emotion. And I find there to be crisis enough for any one life."
Unfortunately, although Moser's appreciation for Austen and her writing is abundantly clear—along with the isolation and rejection faced by all writers – her story simply does not contain much conflict. The "crises" of which Moser speaks, and which form the bedrock of her plot, are primarily internal. She devotes tremendous wordage to Jane's emotions throughout the book, which becomes cumbersome and weakens the story.
Those unfamiliar with Austen's writing will also have trouble following the many shorthand references to her fictional characters. Avid "Jane" followers, however, will no doubt greatly appreciate Moser's solid yet simple prose, as well as her novel take on Austen's life.