Jerusalem's Hope - Book Review
Whitney Hopler

Crosswalk.com Contributing Writer

2002

18 Dec

COMMENTS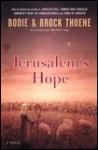 Authors:    Bodie and Brock Thoene
Publisher:  Viking
Jerusalem's Hope transports its readers back in time--mentally, that is--to when Jesus (called by His Hebrew name, "Yeshua") was carrying out His earthly ministry.  Its vivid descriptions engage all the senses.  In their minds, readers can see glowing skies, hear the beat of a bird's wings along with a boy whose deafness was healed, smell the pungent odor of blood when lambs are sacrificed, touch the woven fabric of a cloak, and taste flat bread toasting beside a fire.
The excellent imagery, when combined with impressively rich historical details, draws readers into the story of several orphaned boys, a Roman soldier, and other characters who encounter Yeshua prior to Passover one year before He dies.  Vacillating between a sense of awe and a struggle to understand Yeshua's ways, the characters discover that He is the Messiah, and why that's so important.  Curiously, Yeshua Himself hardly makes more than cameo appearances at the novel's beginning and end.  Authors Bodie and Brock Thoene choose instead to show how Yeshua affects other people's lives--and that approach works surprisingly well.
The novel's plot is rather thin, so readers looking for suspenseful twists and turns may be disappointed.  But some books reach their readers better through rich character studies, and that's how Jerusalem's Hope succeeds.  The way the authors portray the young boys taking care of lambs and sheep is especially moving, because it helps readers understand how Yeshua is both the Lamb of God and the Great Shepherd of those who trust Him.  By the book's end, readers may wish they could truly take a trip back in time to experience what life was like when Yeshua walked the earth.