Jesus Freaks Vol. II - Book Review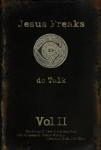 Author:      dc Talk
Publisher:  Bethany House
In the same user-friendly format as its predecessor, the second volume of Jesus Freaks provides compelling snapshots of historical world changers—men and women who were outspoken about their faith and who suffered greatly as a result.
With a note from dc Talk's Toby McKeehan, Michael Tait and Kevin Max to set the tone, the book is not only a collection of stories but a specific call to action.  Instead of being satisfied with mediocre Christianity, believers are charged to be "radical" and "revolutionary," much like Chinese pastor Li De Xian, English scholar John Wycliffe or Scottish preacher George Wishart.
Written with plenty of detail while managing to be concise enough to capture readers with short attention spans, Jesus Freaks II effectively challenges status quo faith.  But even more beneficial in the long run, it also provides necessary awareness on how easy the reader's journey of faith can be in comparison to those who've been martyred in the past.
Used by permission.  CCM Magazine © 2002.  Click here to subscribe.
Buy Jesus Freaks II now at www.lifewaystores.com!