"Keeping a Princess Heart" - Book Review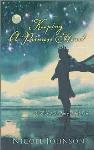 Author:       Nicole Johnson
Publisher:  W Publishing

What woman hasn't wished for that glass slipper that would magically transform her dated business suit into Chanel couture or her rusty station wagon into a Saab convertible? Who hasn't entertained the idea of a fairy tale-like love, complete with a prince, a white horse and an enchanting kiss that changes the course of an otherwise mundane day?

Author Nicole Johnson addresses the friction women often feel when fantasy and reality collide in everyday life, work, family and relationships. Whether you are "waiting for the prince to come or just hoping he comes through" as Johnson writes in "Keeping a Princess Heart," she de-mystifies the fairy tale while guiding readers on how to retain hope in a negatively changing world.

Johnson asserts that what makes Snow White and Cinderella supreme is not their circumstances but rather the state of their hearts. This biblically based, 180-page book is a quick read that will re-awaken the princess within, whether she's currently trading bonds, cleaning house or changing diapers.

Used by permission.  CCM Magazine © 2003  Click here to subscribe.

Get 1 Christian Bestseller for FREE, plus FREE shipping.  Click  here for details.