Key Words of the Christian Life - Book Review
Whitney Hopler

Crosswalk.com Contributing Writer

2002

6 Nov

COMMENTS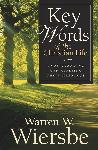 Author:     Warren W. Wiersbe
Publisher:  Baker Book House
God's work is so important that we Christians have lots of important-sounding words to describe it.  But do laypeople truly know the meanings of the words clergy use--words like "justification", "redemption", "sanctification", and "mediation"?
Key Words of the Christian Life:  Understanding and Applying Their Meanings exhorts every layperson to study the meanings of doctrinal words and apply those meanings to their lives.  That's a noble goal.  But the problem is that the book is too dry to capture the attention of its intended audience--ordinary people--and instead reads like a seminary textbook.
That's a shame, because author Warren W. Wiersbe succeeds at making complicated concepts seem simple.  He clearly and thoroughly unpacks the meanings in the various words he covers, so that even the most lofty doctrine becomes accessible.  If his writing was more vibrant and engaging, and if he included examples of real people applying these meanings to their lives, readers would likely pay attention to his valuable lessons.
But the book's heavy-handed approach makes it almost a chore to read.  At times, Wiersbe even seems to be talking down to his readers, repeating points unnecessarily and often reminding readers that the principles are "important" and that they "should" do one thing or another in response.  I could almost picture him wagging his finger in my face like a stern schoolmaster.
Key Words of the Christian Life:  Understanding and Applying Their Meanings could be a useful reference tool for people's home libraries, but it's doubtful that many people will choose to read it straight through.