Labor Movement in Focus in "Bread & Roses" Mystery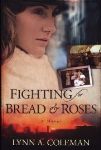 Author:  Lynn A. Coleman
Title:  "Fighting for Bread & Roses"
Publisher:  Kregel
In today's world of lumberous unions it's easy to forget the advancements made because of them. Many sacrificed to make the working conditions what they are today.

Whether you believe that the unions of today are necessary or not, there is no doubt we owe a debt of gratitude to those who sacrificed to make sure we have a good working environment today.  "Fighting for Bread & Roses," by Lynn Coleman, brings to light some of the issues that the early labor movement faced in this mystery novel.
In "Fighting for Bread & Roses," Lindsey Taylor is doing research for her new book. She goes to Lawrence, Massachusetts to find information on the Bread and Roses strike of 1912. She becomes fascinated with the death of Anna Lopizzo, a millworker that was killed during the strike and also discovers the death of Jenna Waverly, a woman that drowned in the Merrimack River. As Lindsey finds out more about Jenna, she questions whether her death was an accident.
As Lindsey digs for information in the small town of Lawrence, she finds reluctance and resistance. This just spurs her on even when her life is in danger. Lindsey uses her intelligence, resilience and faith in God to get the answers she needs.
"Fighting for Bread & Roses" also tells the story of the millworkers that united during the strike. Coleman goes back to 1912 so we get to know the players personally as we learn the facts that Lindsey Taylor unearths. We get to know Jenna and Anna as well as other millworkers that play an important role in the past and in the present. Facts become fleshed out as we are given a broader picture.
Coleman blends historical fiction in so as things are revealed or talked about, we get a deeper look at what has happened. It's a perfect blend of the past and the present. You get a perspective not only of what is going on now, but what really went on in the past. The story is full and well rounded. You feel like an insider as your suspicions are confirmed.
As a mystery, this is done very well. Coleman leads you where she wants you to go and reveals nothing before it's time. She lets you think you have the answer early, but then you realize you went down the path she wanted you to go. The twist revealed sums things up nicely and leaves you with a good feeling.
Coleman is a great storyteller balancing the past and present. You come to know Lindsey of today and Jenna from 1912, their families, and those around them. As the story unfolds we find ourselves worrying about the trials Lindsey and Jenna go through. When we turn the last page it is bittersweet as we end the journey with our friends.

 © 2006 Infuze Magazine.  All rights reserved.  Used with permission.