Lakin Hooks Readers with Someone to Blame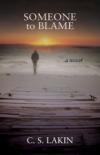 Author:
C.S. Lakin
Title:
Someone to Blame
Publisher:
Zondervan
Can a person truly escape pain? Does running away help? The Moore family discovers that nothing will free them from the agony of losing both their sons to horrific circumstances. Even moving to the small coastal town of Breakers in the Pacific Northwest didn't stop the anger, hurt, and sadness. Matt and Irene, with their surviving daughter, Casey, continue to wonder why God would let such awful things happen.

Residing together, each of them exists in a separate world, emotionally isolated from everyone around them. Casey must start over at a new school and deflect questions about her family. Irene stays home, trying to learn how to make her family work again. Matt goes to work, his pain easier to ignore but simmering just under the surface.

A rash of disturbing events coincides with the appearance of troubled Billy Thurber. Petty crimes and senseless accidents parallel the young man's activities. Trouble seems to follow him—or is he bringing it with him? He rejects every kindness offered to him, whether from Irene or the local sheriff. The small town tensions rise when Billy's estranged father is found dead. The Moore family just wants peace, but even here they can't seem to find it. Because the townspeople are looking for a scapegoat on which to pin all their recent problems, and Billy is in their crosshairs.

Then, in the midst of tension and hate and seemingly inevitable evil, grace breaks through. Love shines brightly into the fog of blame and doubt, giving life to those who need it most. I can't say anything more specific without giving away the highest point of the book. Read for yourself.

C.S. Lakin inserted her characters into every parent's nightmare, which made reading the Moores' story very difficult. But she needed to create a dark place in order to let the brilliance of grace truly shine. Grace can't be described sufficiently unless the depths are also comprehended. We must understand, and experience with the characters, the heartache and anger, the tears and silence, the guilt and despair. Only then will the miracle of grace and forgiveness manifest its true magnificence.

Lakin sets her scenes with exquisite timing. She knows just how much to reveal in any given snapshot in order to heighten the tension and advance the story just enough to keep the reader hooked. Moving from one character to another, from one scenario to the next, she keeps us guessing on what is coming—and, what just happened, really? Having the discipline to leave many things unsaid, in order to impose greatest impact later, is a sign of a mature, gifted author.

Such skill is not usually found in a debut novel. Lakin, however, with the manuscript of Someone to Blame, won the Zondervan First Novel contest in 2009. The grand prize was her contract. Fans will be glad to hear that she has been busy writing several suspense novels in the meantime.


**This review first published on December 14, 2010.