Lang's Big Screen Looks at Films with Bible Themes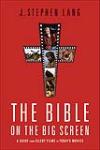 Author: J. Stephen Lang
Title: The Bible on the Big Screen
Publisher: Baker Books
In an age before political correctness, in 1936 Warner Brothers released The Green Pastures, a movie in which an all-black cast play out Bible stories as told in the Deep South. We see white-robed winged angels at a grand fish fry. One still has his cook's cap still on. They're waiting for De Lawd, a white-haired and bearded black gentleman in a black frock coat, who smiles and says, "Let the fish fry begin!"
J. Stephen Lang's The Bible on the Big Screen has many such wonderful details in it. Lang, a prolific author perhaps best known for his Complete Book of Bible Trivia, has compiled a thorough look at films that deal with Bible themes or stories. Running from 1897 to 2007, Lang gives a synopsis, background to the making of the film, and includes a short evaluation without providing an absolute "thumbs up" or "thumbs down."
"Every film I saw, even some of the controversial ones, had some good things along with the bad," he writes in his introduction.
He divides the discussion into periods: "From One-Reelers to Feature Length"; "From Full-Length to the Era of Sound: 1912-1929"; "The Lean Years: 1930s and 1940s"; "The Golden Age: The Fabulous 1950s"; "The Silver Age: 1960s"; "Musical Mishaps and the Longest Bible Movie Ever: the 1970s"; "Revisionism and Controversy: the 1980s and 1990s"; and "A New Millennium, with Passion."
I am no expert on film, but I found the book informative, helpful and fun. My only criticism is the format. It was frustrating to have text run virtually nonstop, with few headings and other ways to find the movies you want to read about. And way too few photos!






© 2007 Infuze Magazine. All rights reserved. Used with permission.