Let's Roll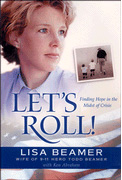 Of the thousands of victims claimed in the terrorist attacks on Sept. 11, one name in particular rose to prominence in the weeks that followed—Todd Beamer—the Oracle executive and father of three who heroically helped detour the terrorists on United Airlines Flight 93, which, according to authorities, was headed for the White House.
Todd's widow, Lisa Beamer, became somewhat of a media darling during the following months, emerging as a spokesperson for all those who lost loved ones in the attacks.   Attractive, composed and five months pregnant, Lisa appeared on various news and entertainment programs to discuss not only her grief, but also her hope in light of her faith in God.
Now, seemingly in an effort of catharsis, Beamer has put her thoughts and feelings down on paper with Let's Roll: Finding Hope in the Midst of Crisis.   The 200-plus page book opens with a recount of the day her husband and 37 others climbed aboard the doomed San Francisco-bound jetliner.   The following pages read like a biography of Todd and Lisa's life together, detailing their separate upbringings, family life, friendships, evolution of faith and even stories about the family pets.
Though filled with gratuitous detail, the book is an easy read.   A character study of the man she admired and loved the most, in Let's Roll Lisa paints a vivid picture of her husband—his faith, his heroism and his flaws.