Letters Between a Catholic and an Evangelical- Review
Whitney Hopler

Crosswalk.com Contributing Writer

2003

6 Feb

COMMENTS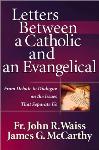 Authors:     Fr. John R. Waiss and James G. McCarthy
Publisher:  Harvest House Publishers
John 17 records how Jesus prayed that all who believe in Him would "be one."  But, sadly, Catholics and Protestants haven't yet fulfilled Jesus' hope for their unity as Christians.  Still, His grace is active in the lives of all who follow Him, and He surely must be pleased whenever they talk with each other in the love He gives, seeking to know more about the truth He embodies.
Catholic priest Fr. John R. Waiss and evangelical minister James G. McCarthy have put together a unique and extremely valuable resource for all Christians in the form of their new book, Letters Between a Catholic and an Evangelical.  The book presents their correspondence through letters and e-mail on key issues about which Catholics and Protestants disagree.  They tackle such questions as whether God's Word is found in Scripture alone or Scripture plus tradition; who has authority to teach and rule in the church; how people are initially saved and what it takes for them to make it to heaven; what communion means; and how Christians should relate to Mary, angels, and saints.
Throughout each of the book's more than 400 pages, Fr. Waiss and McCarthy talk candidly and insightfully to each other, backing up their positions with lots of prayer, thought, and research.  Yet, when they write to each other, their ultimate goal isn't to have the satisfaction of winning the other over to a particular interpretation.  Instead, it's to use the dialogue to discover more about what God Himself reveals about His Son and His church.  Rather than allowing pride or anger to disrupt this process, they continually invite God to give them His grace for their efforts, and remain committed to seeking Him with open minds and hearts.  They clearly enjoy a genuine friendship that can serve as an excellent model for the relationships God wants all Christians to have.
If every Christian read this book thoughtfully and prayerfully, then forged similar friendships with each other and sought God together, we might achieve the unity Jesus is hoping to see one day.