Life Vignettes Create Amy Grant's Mosaic
Cheryl Russell

Infuze Magazine

2007

20 Nov

COMMENTS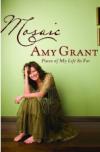 Author: Amy Grant
Title: Mosaic
Publisher: WaterBrook Press

Mosaic, written by Amy Grant, is just that—vignettes from a life lived, for the most part, in the spotlight's glare. For anyone looking for a timeline or tell-all biography, this book will disappoint. This isn't a book that starts at the beginning and travels through time to the present, giving readers every detail. Instead, this memoir intertwines her songs and the stories behind them.
The book is split into four sections, and each section is then split into a song/story combination relating to that section's title.
Every Road contains stories about journeys—some Amy's, some from people she's met, others from listeners that chose a different path than the one they are currently on because a song has spoken to them in a life-changing way. In "Salt Water," she writes about her nieces experiencing the ocean for the first time. "Dorothy Lee" tells of the time she and her husband, Vince Gill, gave a birthday gift to a fan and received so much more in return. Some of her songs highlighted in this section are: "Hats," "Thy Word," and "Turn This World Around."
Heirlooms is about Amy's family. Stories about her sisters, her mom, aunts, nephews, and more cover these pages. The importance of family to Amy is apparent as she opens up and lets readers in on this private aspect of her public life, sometimes in very personal ways. There are funny stories with her children as main characters, the story of how an uncle's influence long after his death touched the niece he never knew, and a look at separation that comes with distance and death.
Lead Me On moves into another aspect of Amy's life. This section is thoughts about her spiritual journey. Here she writes about a family baptism, the influence of her great-grandparents, her unusual experience with a speaker on Nashville's Music Row, are some of the memories she shares here. "Lead Me On," "Angels," and "1974" are a few of her songs woven with the stories.
Takes a Little Time revolves around the harder times in life that we will all face. Loss, depression, fear of the future and the difficulties of trying to blend two families are some of the heavier topics dealt with in the last section of Mosaic. "Takes a Little Time," "All Right," and "Somewhere Down the Road" are a few songs included here.
What struck me about Mosaic is how honest it is. In it, Amy opens up about some of her most personal struggles and triumphs. It's not a book that points blame, bears anger, or makes of excuses. Rather, it's a book of hope, family, and faith written by a woman who understands that she doesn't have all the answers and is grateful for the life she's been given. This is a book that can be enjoyed by fans and non-fans alike.



© 2007 Infuze Magazine. All rights reserved. Used with permission.