Lifegiving - Book Review
Whitney Hopler

Crosswalk.com Contributing Writer

2002

29 Nov

COMMENTS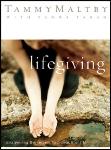 Authors:    Tammy Maltby with Tamra Farah
Publisher:  Moody Press
Lifegiving: Discovering the Secrets to a Beautiful Life tells women that they can impart life to other people through acts of service when they let God's love flow through them.  There's nothing new about that message, but the moving way in which it is delivered will likely make readers stop and take notice.
The book is divided into three parts--one that describes what it means to be a "lifegiver" (basically, that's a fanciful term for someone who serves others), one that shows how "lifegiving" can work, and one that profiles several different women with servants' hearts.  The first and third sections are the strongest, because the book's strength lies in the inspirational stories it tells.  In the second section, where authors Tammy Maltby and Tamra Farah try to give principles for "lifegiving," the book offers little more than basic concepts such as creating a warm environment at home and being a caring friend – concepts that anyone with common sense would already know.
But the authors effectively touch readers' hearts with the vulnerability and warmth of their writing.  Even reserved readers who aren't prone to laugh or cry easily (like me) will likely find their emotions stirred by this book.  Maltby and Farah seem to be reaching out from the book's pages with sincerity that's palpable.  Several times, they address the reader as a "dear friend" or "sister," and by the time a woman finishes reading the book, she may indeed feel as if she knows them personally.
Since this is a book for women, the fact that its principles are rather ill-defined doesn't matter as much as if it were targeted toward men.  Its "heart" is big enough to communicate well to a female audience, who will likely be drawn in by the stories it tells.
Buy Lifegiving now at www.lifewaystores.com!