"Look Who's Laughing!" – Book Review
Whitney Hopler

Live It Editor

2003

19 Mar

COMMENTS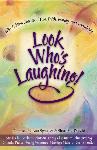 Various authors:  Compiled by Ann Spangler and Shari MacDonald
Publisher:  Zondervan
Everyone can use some extra laughs in their day, and they can count on the new book "Look Who's Laughing!: Rib-Tickling Stories of Fun, Faith, Family, and Friendship" to deliver them fairly consistently.  The book -- a compilation of humorous book excerpts, articles, and lists - covers such topics as male/female relationships, children, animals, body images, and housework.  Most of its contributors are women, which is fitting, since most of the entries would appeal most to women.  However, several men also contribute humorous musings on various subjects.
Sometimes, "Look Who's Laughing!" is hilarious enough for readers to laugh aloud, and often, it's amusing enough to at least cause them to smile.  The spiritual points of the stories don't always come through loud and clear, but some of the entries hit the mark very well.  Lots of popular humor writers strut their stuff in the book -- authors like Barbara Johnson, Patsy Clairmont, and Chonda Pierce.
The book would have been better off without some of the material attributed to "anonymous," however.  Many readers will likely recognize the lists of bloopers from church bulletins, newspaper classified ads, and insurance claim forms.  They've made the rounds on the Internet for quite some time, so why include them in a new book?
"Look Who's Laughing!" will likely appeal to people who enjoy the popular "Chicken Soup for the Soul" series of books.  Each entry strives to create that warm feeling of encouragement that many readers crave -- an energizing feeling that they want to drink in as often as they would a cup of coffee.

Get 1 Christian Bestseller for FREE, plus FREE shipping.  Click here for details.