"Lord, Teach Me to Pray" - Book Review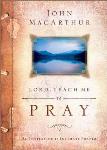 Author:      John MacArthur
Publisher:  J. Countryman

The creator of The MacArthur Study Bible explores the topics:  why we should pray, how to pray, hindrances to prayer and Scriptural motivations for prayer. Several helpful lists such as "5 Reasons Why We Ought to Pray" and "10 Motivations to Pray" keep things moving quickly.

Decorated with vivid and colorful nature photographs, MacArthur ends each chapter with a sample prayer — some written by himself and some by the late author/pastor Charles Spurgeon. Although somewhat dry and lengthy, they could still be useful.

Peppered with poignant Scripture, this book successfully accomplishes its goal "to awaken a renewed passion to pray to our great and gracious God." A possible tool for group Bible studies or personal devotions, it would also make a meaningful gift.

© 2003 CCM Magazine.  All rights reserved.  Used with permission.  Click here to subscribe.