Margie Jenkins Tackles Topic of Death in New Book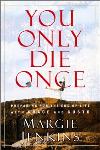 "Preparing for one's final exit is something we all need to do," shares author Margie Jenkins, MSW, LPC of her new book, You Only Die Once:  Preparing for the End of Life with Grace and Gusto.
Published by Integrity Publishers, You Only Die Once was developed as a result of a series of seminars Jenkins has presented to churches, retirement groups, and the M.D. Anderson Cancer Network Conference.  "My book is intended to help you get your affairs in order, releasing you from worry or guild about things undone," says the author.  "Transition from life can be just as profound, intimate, and in some ways as joyful as birth."
The published author, public speaker, newspaper columnist, and professional counselor has counseled thousands of individuals--particularly cancer patients who had to confront issues surrounding death.  "A significant segment of my work focuses on cancer patients and their families," Jenkins adds, "and helping them find more happiness, understanding, and peace."
Topics covered in You Only Die Once include:  identifying someone who will help carry out your final wishes, the process of paying for burial, coffin, services, etc., honoring loved ones who have left us, saying goodbye to friends and family, steps to be taken after a death, effective healing behaviors to help cope with loss, and more.
Mother of four children and married to her husband for 56 years, Jenkins helped her own father, who lived to be 100 years old, transition through the final stages of his life.  She resides in Houston, Tex. where she continues to teach a seminar at the University of Houston for professional caregivers on this subject.