Marriage Connections - Book Review
Whitney Hopler

Crosswalk.com Contributing Writer

2003

3 Jan

COMMENTS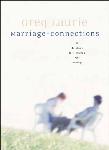 Author:     Greg Laurie
Publisher: Tyndale House Publishers

Marriage Connections is a handy little book with some big things to say to couples looking to strengthen their marriages.  The book's 60 devotions discuss most of the foundational issues of marriage, covering a lot of important territory.  But, fortunately, author Greg Laurie's writing style is crisp, engaging, and not at all heavy-handed despite the weighty subjects he tackles--topics such as commitment, submission, forgiveness, and purity.  His narrative is quite personable, but also courageous enough to clearly exhort couples to take steps of faith that may seem difficult to them (such as by telling them to start acting in loving ways toward their spouses without waiting to feel love for them, then watch as God honors their actions by restoring their feelings).
Laurie doesn't actually say anything new, but he successfully reminds couples of timeless biblical principles that have been proven to work.  The stories he chooses to illustrate his points hit the mark; the devotions are quite enjoyable to read.  The Scripture verses are also well-chosen.  But the "Marriage Builders" section at the end of each devotion doesn't fulfill its potential.  The brief quotes from other writers in "Marriage Builders" do provide some inspiration on the topic at hand, but how much better it would be if Laurie would have used this section to suggest activities for couples to do to apply the book's principles.  He has already given readers inspiration through the devotional itself; what they need are ways to act on that inspiration rather than a rehash of the ideas through another writer's quote on the same topic.
Still, Marriage Connections delivers scads of thought-provoking ideas in a concise format that even the busiest couples will be able to digest.  Couples who take its messages to heart should indeed enjoy stronger marriages.